COMMUNIQUÉ
 / 
POLYPHONY
 / 
BULLETIN
 / 
UPDATE

FSSP.la • Pieces to be working on …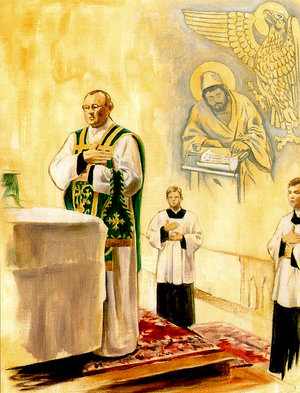 HE FOLLOWING is intended to give choir members some idea what to focus on. To access rehearsal videos for each piece, scroll to the top of the page and click the button labeled: POLYPHONY.
Updated on 9 December 2016:
Focus heavily on the following:
#6995 • K

YRIE

"Te saeculorum" (Palestrina)



Not section 2 — only section 1 + section 3.
You should be working on these:
#6800 • "Cantique de Noël"

#3792 • "O Magnum Mysterium"

#6962 • S

ANCTUS

& H

OSANNA

"Te saeculorum"
We should know these already (hopefully):
#7231 • "Cónditor" (Guerrero)

#7672 • "Salve Virgo Singularis"

#4063 • "Te Saeculorum" (Mercier)

Updated on 5 November 2016:
Focus heavily on the following:
#6962 • S

ANCTUS

& H

OSANNA

"Te saeculorum"

#6995 • K

YRIE

"Te saeculorum" (Palestrina)

#7231 • "Cónditor" (Guerrero)

#7672 • "Salve Virgo Singularis"
We hope to learn the following eventually:
#4063 • "Te Saeculorum" (Mercier)

Updated on 30 October 2016:
Focus heavily on the following:
#6995 • K

YRIE

"Te Saeculorum" (Palestrina)

#7231 • "Cónditor" (Guerrero)

#7672 • "Salve Virgo Singularis"
We hope to learn the following eventually:
#4063 • "Te Saeculorum" (Mercier)

Updated on 11 October 2016:
Focus heavily on the following:
#7231 • "Cónditor alme síderum"

#7503 • A

LLELUIA

based on "Ave Maris Stella"

#7672 • "Salve Virgo Singularis"
We hope to learn the following eventually:
#4063 • "Te Saeculorum" (Mercier)

Updated on 6 September 2016:
Focus heavily on the following:
#7231 • "Cónditor alme síderum"

#7503 • A

LLELUIA

based on "Ave Maris Stella"

#7672 "Salve Virgo Singularis"
Some members will know the following already:
#4063 "Te Saeculorum" (Mercier)

#7593 "Caelitum Joseph"
We hope to learn the following eventually:
#7554 •

SATB

"Agnus Dei" after Fr. Gregorio Allegri

#7722 • "Verse 3b" (Guerrero)

Updated on 27 August 2016:
Focus heavily on the following:
#7593 "Caelitum Joseph"

WHICH

YOU

SHOULD

ALREADY

KNOW

#7503 • A

LLELUIA

based on "Ave Maris Stella"

#7672 "Salve Virgo Singularis"
Some members will know the following already:
#4063 "Te Saeculorum" (Mercier)
We hope to learn the following eventually:
#7554 •

SATB

"Agnus Dei" after Fr. Gregorio Allegri

#7722 • "Verse 3b" (Guerrero)

Updated on 3 August 2016:
Focus heavily on the following:
#7672 "Salve Virgo Singularis"

#7593 "Caelitum Joseph"

#7503 • A

LLELUIA

based on "Ave Maris Stella"
Some members will know the following already:
#4063 "Te Saeculorum" (Mercier)
We hope to learn the following eventually:
#7554 •

SATB

"Agnus Dei" after Fr. Gregorio Allegri

#7722 • "Verse 3b" (Guerrero)

Updated on 27 July 2016:
Focus heavily on the following:
#7672 "Salve Virgo Singularis"

#7593 "Caelitum Joseph"
Some members will know these already:
#4063 "Te Saeculorum" (Mercier)

#4781 "Rice Kyrie"
We hope to learn this one eventually:
#7503 • A

LLELUIA

based on "Ave Maris Stella" •

PDF

Score (Singer)

#7722 • "Verse 3b" (Guerrero)

Updated on 10 July 2016:
Focus heavily on the following:
#7672 "Salve Virgo Singularis"

#7709 "Viadana Gloria"

#7593 "Caelitum Joseph"
Some members will know these already:
#4063 "Te Saeculorum" (Mercier)

#4781 "Rice Kyrie"
We hope to learn this one eventually:
#7722 "Verse 3b" (Guerrero)