Dr. Alfred Calabrese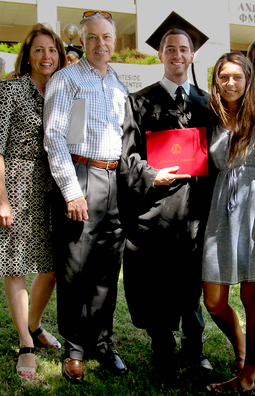 ALLED "ONE OF THE FINEST conductors of his generation" by maestro Robert Shaw, Alfred Calabrese enjoys a diverse career as conductor, educator, composer, scholar, and church musician. After a twenty year career in academia, he was called to full-time work in the Catholic Church, and since 2007 has served as Director of Music at Saint Rita Catholic Church in Dallas, TX, where he administers the program of music and liturgy, which includes six choirs and six full and part-time staff. Calabrese conducts the St. Rita Choir, the Jubilate Deo Choir for grades 4-8, and trains cantors. He chairs the parish's Liturgy Committee, and is Executive Director of Saint Rita Fine Arts, which presents an annual music and arts series for the greater community.
Dr. Calabrese has been composing and arranging intermittently since 1990. His more recent compositions include A Mass of Prayer and Rejoicing for various combinations of congregation, choir, organ and brass; a generous number of responsorial psalms for weekly liturgical use; and English-texted anthems. He has also embarked upon a Latin motet project focused on the creation of accessible works preserving the Proper texts from the Graduale Romanum and other traditional sources.
He has served as director of choral activities at Southern Methodist University, Emory University, and Brevard College, and as Visiting Professor at the Jacobs School of Music at Indiana University, and at the Versailles Conservatory, France. He has been a Guest Lecturer at the University of Notre Dame, the University of South Carolina, and guest conductor at several churches and colleges. His former students, both singers and conductors, hold prominent musical posts and active careers in the US and abroad. In 2013 he was guest conductor of the l'Ensemble Polyphonique de Versailles, and led them in a performance of the Duruflé Requiem during the prestigious Mois Molière Festival.
Possessing a special affinity for the canon of choral literature for chorus and orchestra, Dr. Calabrese has conducted major works of Bach, Brahms, Mendelssohn, Mozart, Handel, Haydn, Stravinsky, Fauré, Duruflé, and Poulenc, as well as smaller works of Britten, Vivaldi, Schubert, and Arvo Pärt, among others. His repertoire for chamber choir reveals an emphasis on the Renaissance motet and Mass as well as works of the present day suitable for liturgical use. As a rehearsal assistant for the Atlanta Symphony Chorus, his work with maestro Shaw included the preparation of works ranging from Bach to Mahler. He was chorus master of the Charleston Symphony Orchestra, conductor of that orchestra's Christmas and educational concerts, and founder and conductor of The Britten Choir (an Atlanta-based professional chamber choir). His choirs have received praise from such diverse sources as the American composer Ned Rorem, and FANFARE MAGAZINE, who said upon review that The Britten Choir "compares favorably with The Finzi Choir and The Sixteen."
As a clinician, he has conducted All-State and honor choirs and has participated in numerous festivals and clinics throughout the United States. He graduated with a master's degree and doctoral degree in choral conducting from Indiana University, and his dissertation on the early works of Benjamin Britten was selected to be housed in the permanent collection of the Britten-Pears Library in Aldeburgh, Suffolk.
Dr. Calabrese was born and raised in upstate New York, in the small town of Waterford. A cradle Catholic, his youth was colored and influenced by his strong Italian-American heritage, the Catholic culture of his family and the upstate area, and the beauty of his boyhood parish, St. Mary of the Assumption, Waterford, known affectionately as "the little Cathedral on the hill," where he sang in the choir beginning at age 15. He is married to Cynthia Calabrese, a musician and development executive. They have two grown children who live in Dallas, TX.
Clicking ARCHIVE displays articles by this contributor only.