St. Isaac Jogues Missal, Lectionary, & Gradual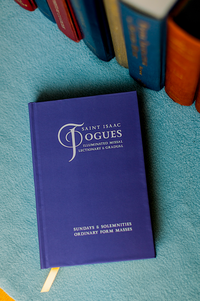 EMBERS of Corpus Christi Watershed were honored to assist the JP2 Institute in creating a book fulfilling "the true liturgical vision of the Vatican II fathers." This book is intended for the pews wherever Ordinary Form Masses are offered. By clicking on the "SUPPORTING MATERIALS" button (see above), you can view sample pages, read reviews, and learn about the various elements that make this book's 832 pages so unique.
+ Purchase this Book [ 832 pages ]
BULK

DISCOUNT:
Those who order 100+ copies can do so for just $22.99 per book! Send an email with "bulk discount" in your subject to liturgical.institute@gmail.com.

R

EMINDER

: The average Catholic parish spends about $7,000 per year on missalettes tossed in the garbage every few months. But the Jogues Missal is hardcover—of the highest quality (sewn binding)—and will last for decades.

Questions?
Contact the John Paul II Institute with questions about this excellent pew book. The official title is SAINT ISAAC JOGUES ILLUMINATED MISSAL, LECTIONARY, & GRADUAL, but it's usually referred to as "The Jogues Missal."

Need a hymnal for the Ordinary Form? Please explore the Brébeuf Hymnal.