[299 pages] • Simple Polyphony For Choirs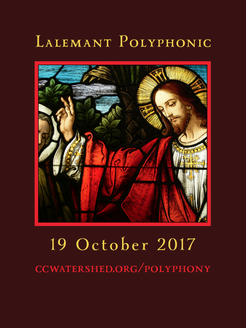 OU MAY HAVE noticed the rehearsal videos and scores appearing at our website. A friend has been requesting permission to create spiral-bound copies, but I kept saying: "Not yet—be patient." When we reached 299 pages of scores, I finally relented. (We will continue to produce scores and videos; when 300+ new pages are posted another volume can be made available.)
I helped assemble the table of contents:
* * PDF Download • Table of Contents
My friend was correct: printing out 299 pages for each singer is somewhat foolish. It's easier to purchase a physical book:
* * Lalemant Polyphonic • Spiral-Bound Book (299 pages)
Save money with this coupon, but notice the expiration date!


NOTICE:
Page 88 and page 95 contain an insignificant printing error (which Lulu says they are trying to fix) but these errors do not affect the music in any way.